ThinkGrow LED Model-I Plus
The fixture is a high-performance LED grow light for horticulture cultivation. The compact design with a built-in driver balances the energy efficiency and human work environment. The innovative V-shape design on the LED panel improves light distribution, which lowers the height from the canopy needed as it reduces light energy loss. Four spectrum channels including UV, White, Deep Red and Far Red are fully controllable to dial in the exact recipe of light your plants need (only available on TrolMaster HCS-2/3 controller). It provides great external control ability and allows up to 256 fixtures per channel with outstanding efficiency at 2.7 umol/J.
The Model-I Plus is only compatible with TrolMaster Hydro-X and TrolMaster Hydro-X Pro control systems. Up to 256 fixtures can be controlled in the same daisy chain channel via an LMA-T adaptor. While connecting to the original HCS-1 controller, the Full Spectrum channel and the Far Red channel can be controlled independently. This will allow the Far Red channel to be turned on for 10-15 mins after light off to help to finish the flowering cycle faster. While connecting to the HCS-2 controller, the same function can be achieved and an advanced spectrum tuning function is available for creating special light recipes.
Ultimate control on UV, White, Deep Red, and Far Red spectrums for creating special light recipes.
SPECIFICATIONS
Efficacy 2.7 μmol/J
Input Power 720 Watts Power Factor ≥ 90%
Dimensions 45.24″L x 4.36″W x 6.46″H
Mounting Height > 2.5' Above Canopy
Lifetime L90 > 54,000 hours
Warranty 5 years standard

Input Voltage Autosensing 100-277  Volts.
Amp Draw
6.23 @ 120 Volt
3.09 @ 240 Volt
2.71 @ 277 Volt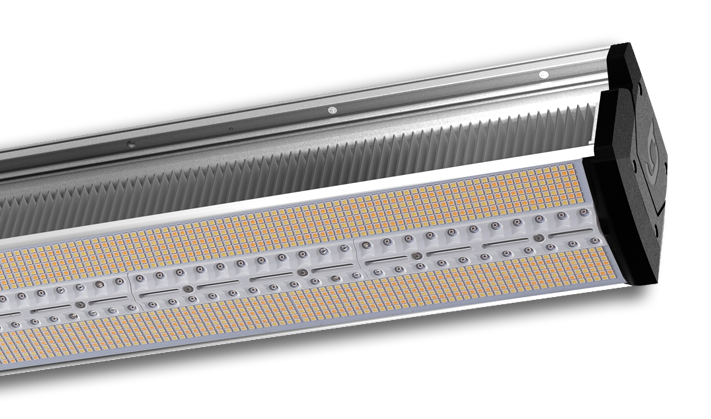 Satisfaction
Guaranteed
Discreet
Shipping
Free Canadian
Delivery over $149
Guaranteed
Safe Checkout
Discreet Shipping
We understand the importance of privacy to many of our customers. All orders placed on Growbuds are shipped in plain boxes without explicit identifying marks.
Free, Fast Shipping
All continental US orders over $99 qualify for free shipping.
Estimated Arrival
Between 1 and 5 business days, depending on your location.
Easy Returns for up to 90 days
Depending on the brand.
Please refer to our Shipping & Returns policy page for more detailed information.

All products sold on Growbuds are subject to the respective manufacturer's warranty policy, which normally lasts one year. These policies can be found on the original manufacturer's website or by contacting them.The manufacturer will replace any defective parts within the warranty period. Damages caused by misuse, improper maintenance or neglect are not covered by the manufactures warranty.Growbuds will assist you in your warranty claim by helping you coordinate with the original manufacturer.If for any reason, your product is defective, please contact us directly at 1-877-900-2632 or via email at support@wegrowbuds.ca to request a Return Merchandise Authorization number (RMA). Should you have any questions or concerns about our warranty policy, please contact us.
Our experienced commercial team has helped supply hundreds of indoor, outdoor and commercial greenhouses projects in Canada and the United States.
Looking to get a quick quote? Contact us at support@wegrowbuds.co or call at 1-877-900-2632 option 2 to talk with a Growbuds sales representative. Otherwise please fill out the quick form below and we will be in touch as soon as possible.
Canada Headquarters
295 Cure-Labelle Boulevard,
Laval, QC H7L 2Z9, Canada
United States Headquarters
2915 Ogletown Road
Newark, DE 19713, United States
Call Us
Toll Free: 1-877-900-2632
Hours: 9AM - 5:00PM EST
You may be wondering why you should buy your grow lights from us, instead of other available authorized dealers. Read on for the answers to all your burning questions.
10 Reasons To Trust Growbuds With Your Business
Customer Service
We are here to help and want the best for you. Use our live chat, email us at support@wegrowbuds.ca or call us at 1-877-900-2632 during business hours. We are always here for you.
Full Warranties and Generous Return Policies
We only carry top American brands that back their products with full warranties and return policies of up to 90 days, depending on the brand.
Earn Growbuds Points
Earn points on all your purchase and save big on your next purchases. You'll earn 4 "Nugs" for every dollar your spend. You can then use your "Nugs" to save on your next grow room upgrades. Get started creating a free account today.
Price Match
We want you to be absolutely secure that you're getting the best price with us, so we will not only match a lower price you find online before purchase, but will even refund you the difference up to a month after purchase.
Discreet Insured Shipping
All orders ship via Canada Post, FedEx, UPS, and Purolator, or a reputable freight company and the shipment is always insured, so you do not have to worry about a lost or damaged package. You also don't need to worry about prying eyes: all orders ship discreetly.
Hassle-Free Returns
For up to 90 days, please refer to our Shipping & Returns policy page for more information.
Free Shipping
On orders over $149 in Canada.
Authorized Dealers
We only carry Canadian and American brands whose lights and other products have been extensively tested by real growers and processors. 100% US warranty on all products.
Safe & Secure Systems
In place for every payment transaction.
Frequently Asked Questions
Growbuds Grow Club
Get the rewards you deserve. With the Growbuds Club, you'll earn rewards for every dollar your spend and save big on your future grow room upgrades. Get started by creating a free account today.
Get Started